Hands on Summer Camp
"Between stimulus and response there is a space. In that space is our power to choose our response. In our response lies our growth and our freedom." - Viktor Frankl
---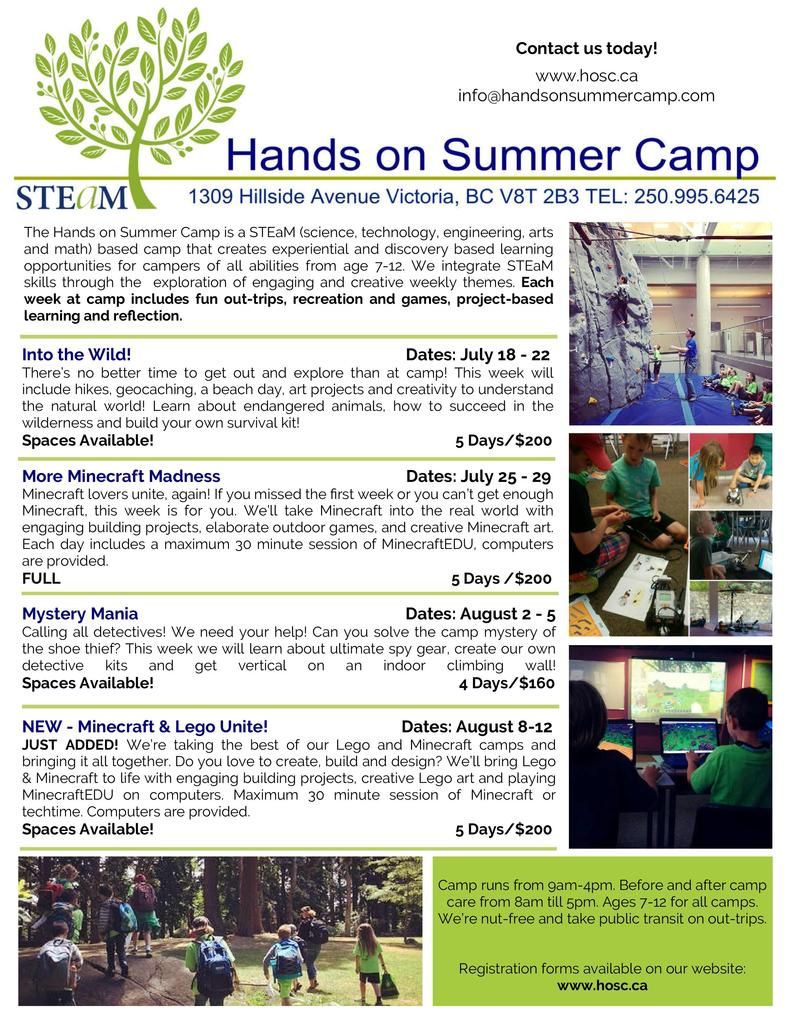 The Hands on Summer Camp creates experiential learning opportunities for children of all abilities. Our camps are offered for typical children and those with special needs between the ages of 7-12 years old. Hands on Summer Camp is STEaM (science, technology, engineering, arts and math) based and encourages participants to use these concepts to better understand the world around them. Participants integrate STEaM skills through the in-depth exploration of engaging and creative weekly themes.
At HOSC, we offer a different kind of summer camp: weekly day camps based on educational themes that will engage, delight, and excite children. An average day consists of an out-trip that explores the week's theme in the physical world, recreation and games, project-based learning, and arts and crafts.
Trained camp counsellors guide campers through their daily activities with the intention of building confidence and self-esteem. Well-rounded, satisfied, and exhausted campers become capable and confident learners for the coming school year.
For more information on camps listen to our r adio segement on Real Parenting in May 2014.
---
Our camps are based on:
hands on, experiential learning;
STEaM;
concepts of discovery learning and total communication;
the importance of technological and scientific savvy;
the necessity of working together in a positive manner.
This aligns with the EBS philosophy, that all children deserve:
To be a part of a safe, nurturing community;
To enjoy feelings of self-worth and success;
To learn in small classes with a low student to teacher ratio;
To learn through a total communication approach;
To be treated as individuals with unique needs and abilities;
To benefit from a partnership between school, staff and parents;
To have opportunities for intellectual, emotional, social and physical development;
To have balance between individual and social, quiet and active, self-directed and guided experiences.
---